If I share my world with you, will you promise not to judge me?
A few years ago, I set some rather BIG financial goals. My intention was to be able to live by the beach in California, so I could dodge terrible traffic patterns and we could raise our children near my wife's family. I thought I had the best intentions, although in order to achieve these goals I would have to partner into multiple businesses, buy a house in the multi-million dollar range to have enough bedrooms to raise our kids, and end up with a property — based upon availability of southern California real estate — far larger than what we needed or desired. In the end, it was going to cost us about $5,000,000, which is a totally absurd number.
So, I began working backwards, attempting to solve how I could take on a super expensive mortgage, pay enough down within 5 years to feel comfortable leaving my family with a debt like this if something happened to me, and maintain a lifestyle that allowed me to raise my children. Enormous goals, some might say; others may think this is child's play, as life is a constant state of relativity.
Well, I 'totally' missed the ball on my purpose for being here on Earth. I set myself up for a multi-year distraction, financial goals that way exceeded what I needed, and compromised decision-making in order to hit them. As many of you know, I quickly became sick and ended up in the hospital on my death bed. Life got my attention, and I've jokingly said I was "soul slapped" for stepping away from my purpose of improving human (and universal) health; in truth, that's about right.
I didn't realize how BIG of a distraction money could be. In fact, I fell under the same spell so many others fall under during adolescence and adulthood: "setting up the future".
Boy-oh-boy was this a mistake. Now, I don't have any regrets, as each moment in my life has taught me something invaluable, and often times, I'm able to communicate my lessons to millions of people who then can learn vicariously through me. If I had to choose again — and you'd get to learn from my mistakes so you wouldn't have to make them — I'd make the same choices. Under one condition, of course, that you actually learn.
Money is the biggest distraction from purpose known to humankind.
We are here for so much more. We are here to love, to be kind to one another, to heal our planet, to be a part of something bigger than ourselves or the world we live in, and to tie knots that form unity. We are here to experience life through what many term "God's eyes", instead of distracting ourselves with shiny, material objects bought through wasted time chasing dollars, pesos, euros, pounds, rupiah, etc.
When we step back from it all, it seems quite silly we spend so much time and focus on money, although many of us have the best of intentions.
I know I made this mistake. Instead of trusting that my life is taken care of and focusing on living, I attempted to take life into my own hands and win the societal game. It's tricky to jump ship once you've done this, especially if you have engrained subconscious beliefs about money, fame and fortune, and being the provider.
You see, I grew up learning the importance of money, because my father literally didn't have food to eat growing up. He was exiled from what was Palestine at the time, lived in the desert for many years, and eventually had enough of his brothers and sisters drop out of school to put him through. The $0.50/year it cost for a gym uniform was too much for his family to afford, so he failed gym class and still managed to graduate first in Jordan from high school. He managed to go on to graduate first in the Middle East from college and medical school, which bought him a $2,000 stipend to come to the USA and build the dream.
I was raised understanding what's possible with the right work ethic, and I learned to believe in the impossible being reality; today, I honor these lessons and am so appreciative of everything my father did to create the best life for us. In fact, I probably wouldn't have anything to teach you if I didn't grow up this way, and I probably wouldn't have figured out how to reach you if I didn't have his leading example of love, work ethic, and achievement.
Where I personally got confused was on the money topic. I learned work ethic, I learned belief, I learned taking care of family, and I learned the sky is the limit; along the way, I perceived money to be the vehicle, and I dedicated several years of my life to figuring out this equation.
Money is not the vehicle to a great life. Often times, in a society stricken by war and terror, it's the only way out. This is not the life I was given, and I am super fortunate for it. And let's please remember, war and terror are driven by money, which is why this confusion takes place to begin with.
I recommend we shift our focus away from money, toward universal trust, and transform our #1 priority into purpose. My father has done a remarkable job living his purpose: elevating his family from near-death experiences as daily life to prosperity in the form of happiness, laughter, and the means to eat and gain an education.
He — and my mother — have enriched the lives of hundreds of my cousins, my aunts and uncles, and my grandparents. They have used money as a vehicle at times, but the burning desire they have comes from their hearts, not from a bank account. They have attached themselves to spreading a love for life, and a pizazz to make anything possible through example and incredible leadership.
Does this make any sense?
So, I'm asking myself on a regular basis these days: what 'is' my purpose? What am I here to do, on the largest scale possible?
Well, in many ways, it's the same as what they've done: spread love and light. Due to the great fortune I have of being their child, I'm able to do this at scale.
So, every moment of my life is dedicated to purpose as priority one. And I have to believe my family will be ok, so long as I stay on purpose. I know my father's family is ok because he stayed on purpose. I know he learned how to save lives as a vascular surgeon and dedicated himself fully to his patients as his first priority. I know I can dedicate myself to you, as my first priority. And I truly believe, should you decide to take my hand and let me lead you, I can save your life too (and certainly the quality of your life).
Will you allow me this great honor?
I am here learning, every single day. I make plenty of mistakes, and each time I make them, I share them with you. I have the incredible opportunity to meet people who society sees as the pinnacle of success, and then I have the even greater opportunity to help them reframe their lives and focus on what counts. I heal people, but it's not me; this is something I've learned comes through me.
There is a universal intention out there somewhere, or perhaps everywhere. And much like any team, we each have our purpose in achieving it. I am getting to know my purpose better and better every day. Will you please take time to get to know 'your' purpose, so we can come together and contribute to this game we call life?

Today's thought exercise:
If money isn't the purpose of life — and you no longer had to waste any time focused on bills, income, etc. — what would you be doing? And what's the worst that would happen if you took 30-90 days and did exactly that? If that's too far-fetched, how about 2 weeks? How much damage could possibly be done — when you fast-forward a decade or two — in the next 2 weeks of your life?
Thank you for considering these thoughts and ideas. And thank you for accepting me, in spite of all my mistakes. Through your acceptance, I learn compassion to an even greater extent, and through your admiration I learn humility. I achieve purpose because you choose to listen, and through achieving purpose, I feel more life force.
Thank you. I love you.
Sent to you with love, honor, and in service,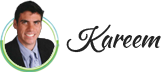 About Author
Dr. Kareem Samhouri
Dr. Kareem Samhour is known as (perhaps) the best Doctor of Physical Therapy & Kinesiologist on the internet. People come to him for results when other methods fail, injury gets in the way, or health situation is more complicated. Dr. Kareem Samhouri exercising In fact, he and his companies reach a combined total of 1.5 MILLION people on a daily basis to help them with their health. If you ever saw Dr. Kareem on the street and mentioned something was going on with your health, however, he would volunteer and offer to help you for free... that's the Dr. Kareem way.