How To Quit Smoking Today
(without the patch)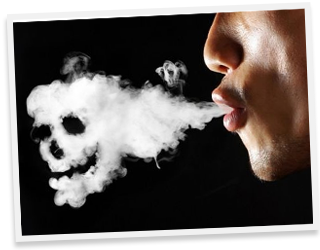 Make no mistake about it — smoking sucks.
Don't get me wrong — while smoking, it's pretty awesome. In fact, I used to smoke… many, many years ago; and I got severely addicted while living in Spain. The only thing was, I didn't know I was addicted until I came back and tried to quit — oh the headaches, cravings, and impulses. Totally sucked.
You see, cigarettes got the best of me. I was smoking a cigarette or two, socially, and then that turned to a pack. I figured I was surrounded by smoke either way, so I may as well smoke. Well, here's the thing — there's no FDA in Spain, so they had twice the legally allowable amount of nicotine in their cigarettes. This meant that every cigarette I had counted for two.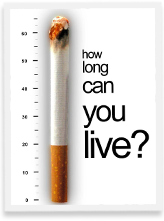 When I came back stateside, I attempted to quit, as I learned my best friend's grandmother was dying from lung cancer after having quit 35 years earlier — 35 years. She quit, and cancer still got her, and it was definitely linked to smoking. That's frightening. At first, they gave her 6 months to live, then they cut it down to one, and finally ended on 2 weeks. She almost made it to the 13th day — from date of diagnosis.
Imagine.
Your whole life, knowing you gave up smoking years ago — and then, boom. Fate hits, and you pay for your actions, but with a delay so long after you've forgotten your sins.
Well, my buddy and I decided to quit smoking, immediately. I knew I didn't want to smoke again, but I told myself that I would have some amazingly self-manipulative arguments take place due to stress or anything else that would get me to want to smoke again.
I resisted, and here's how it played out:

For about 2 weeks, I craved cigarettes nonstop.
After about 2 weeks, I thought about smoking at least 3-10x per day for about 6 months.
At a decreasing frequency, I dreamt about smoking, and this didn't stop for about a year. In each dream, I would smoke less, until in the final one I threw out the cigarettes before lighting one up and said "I quit."
They got into my head — those bastards.
I still can't believe this was possible, but it was. It's like Freddy Kruger in Nightmare from Elmstreet — how the heck did they make it into my dreams? That's crazy talk, and I'll never forget (or forgive!) the tobacco industry for this.
So, whether or not you want to quit — that's up to you. I get it, smoking is fun. But those dirty, manipulative people stole my brain for awhile, and they didn't even tell me they were doing it. For me, that's violating.
Here's my simple 3-step plan to help you quit smoking, if you're interested:
| | |
| --- | --- |
| | Find an emotionally driven reason to quit, something that really matters. |
| | Promise someone important to you, and join forces to hold one another accountable. |
| | Decide — ahead of time — what you will tell yourself, and when, that may lead to smoking another cigarette. (i.e. "I'll only smoke when I drink, get stressed out, need to take a break from work, etc.") |
Then, follow your plan, and commit.
It's not easy. It's not supposed to be. If it were, less people would smoke, and quitting wouldn't be an issue. Besides, if it were easy, the tobacco industry would keep working on modifying their formulas until it became impossibly difficult, all over again. That's their job — to keep you addicted — and it pisses me off.